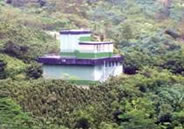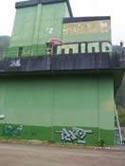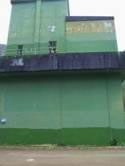 On April 14 2006, HHC volunteers tackled the latest graffiti assault on the Omega Building, in Haiku Valley Kaneohe, a favorite target of graffiti "taggers". HHC volunteers cleaned up the building in November and painted over all of the existing graffiti.
HHC's President and co-founder, Mike Gabbard, got so many calls from thankful residents who were sick and tired of seeing the beautiful view from the H3 marred by graffiti. We made a commitment at that time to return as soon as more 'tagging' occurred. The building stayed clean for 5 months but recently we found that the taggers had trespassed on the land and hit the building again. The Omega Building has become a favorite target for graffiti taggers because of its prominent location off of H3.
The building was used by the U.S. Coast Guard to house radio equipment, but since the arrival of new satellite technology it has no longer been needed. The Department of Hawaiian Home Lands now owns the building. HHC has adopted the Omega Building, so if the taggers return, call us at 778-4243 and we'll repaint within 72 hours.